Way North Chesapeake Bay Fishing Report, February 24 Update:
The first signs of spring are here with flowers and trees beginning to bloom. This has many anglers excited because with spring comes many more fishing opportunities. We aren't quite there yet but we sure are getting close and the fish seem to know it too. Yellow perch are staged up and feeding hard in preparation for their spring spawning run. We haven't heard of any of the perch runs breaking loose yet but that action could happen any day now. Most of them are still staged up in deeper holes and channels that lead to the smaller tidal tributaries. The Susquehanna has been the most productive so far but areas in the Elk and Gunpowder are providing some action too. A few anglers targeting yellow perch on the Gunpowder reported striking out on the yellows early this week but did catch plenty of bluegill and small bass while bottom bouncing small minnows on shad darts.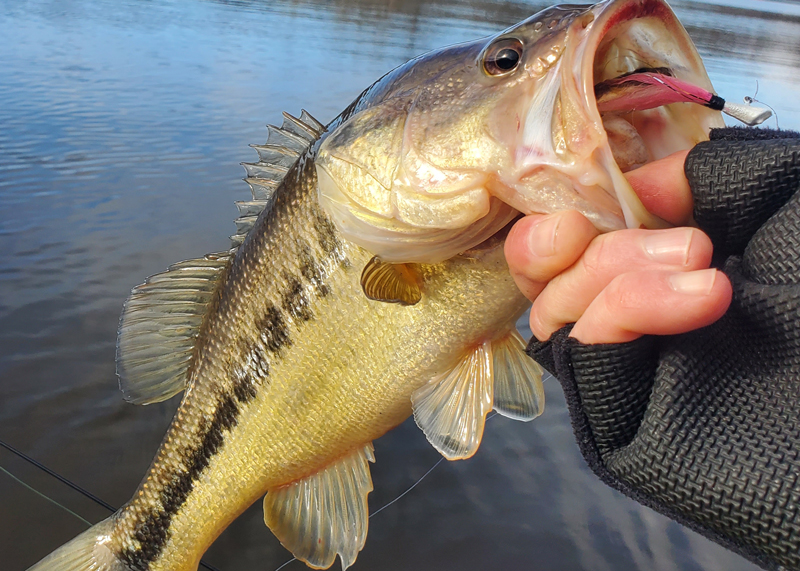 Catfish are always a good option for anglers fishing the upper areas of the Chesapeake Bay and they can be caught in almost every tidal body of water. Blue catfish are most abundant in this region and will be found below the Conowingo Dam, in the rivers, and out on the flats. Fresh cut bait is always the best bait to use but chicken liver and chicken breast work well too when paired with a sweet, scented attractant. The catfish should become more active with the warmer weather and the late winter/early spring is a great time to target them for a chance at a big fish.
---
Way North Chesapeake Bay Fishing Report, February 17 Update:
Springlike temperatures this week have yellow perch anglers looking forward to the onset of the spring spawning run. For those waiting on the perch run: we had two reports from early perch-searchers (one east side, one west side) that as of midweek the fish hadn't yet left the deep holes downstream from spawning areas. That could change fast with the warm weather, which could make for a sudden burst of action, so stay tuned. Smaller live minnows almost always work best for the perch, but small shad darts can work well too. Try fishing them under a bobber or bounced along the bottom in areas where the perch are hanging.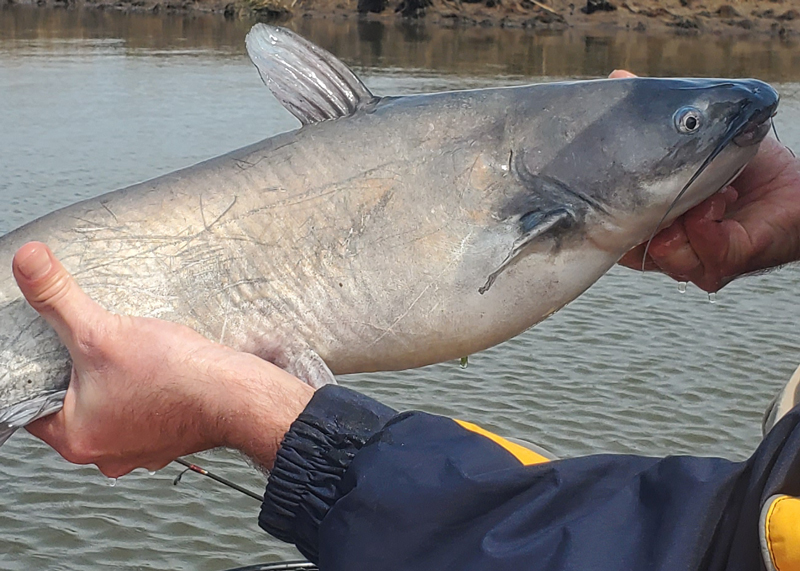 Blue catfish are plentiful in the tidal tributaries and are active throughout this time of year. The warmer weather should have some of them moving into shallower areas to feed. Fresh cut bait like shad or menhaden works best but chicken liver and chicken breast get them biting too. Channel catfish can be caught in the tidal rivers and will still be in deeper water.
Anglers fishing the Susquehanna have been doing well while targeting smallmouth this week. One angler fishing south of the Columbia Wrightsville Bridge enjoyed a day of smallmouth catching using natural colored Ned rigs and hair jigs. The recent rain will likely have the Susquehanna and tidal tributaries muddy so these bites may slow down until conditions improve. There are less than two weeks left in the CCA Pickerel Championship so anglers looking to join the tournament or improve their standings should make sure to get out on the water asap. Next week's forecast is calling for more mild temperatures which should make for some good fishing days. Get out there and enjoy the weather!
---
Way North Chesapeake Bay Fishing Report, February 10 Update:
Fishing in way north reaches of the Bay has been limited to mainly catfish and yellow perch over the past few weeks. Luckily, this winter has been relatively mild and there have only been a few days where ice made fishing difficult. February can be a roller coaster when it comes to weather so it's hard to say whether the warm trend will continue or if cold fronts are on the horizon. Make sure to take advantage of the fair-weather fishing days while we get them. Yellow perch are only a couple weeks away from their spring spawning run and are still staging in the deeper waters of the tidal rivers. Anglers on the Susquehanna have been finding them in holes as deep as 30 feet, but they should soon start to push further up into smaller tributaries. Bottom rigs baited with small minnows have been working well for the perch. If you happen to catch some catfish in the areas you are perch fishing, it may be a good idea to move elsewhere. Larger catfish have no problem eating the yellow perch and can become competition for anglers.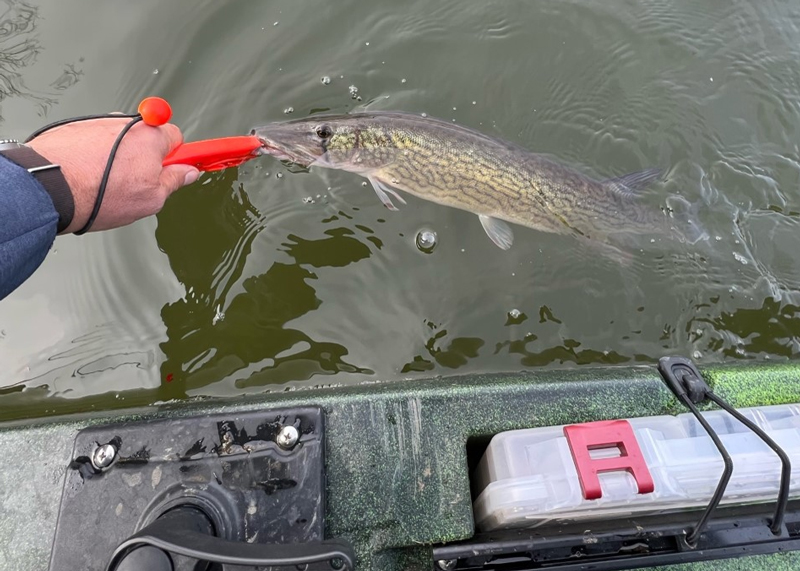 Pickerel fishing hasn't slowed down and many of the tributaries on the upper Bay have plenty of medium sized pickerel hanging out close to shoreline structure. Jerkbaits, paddletails with underspin's, and live minnows all work great for the pickerel.
Those looking to target catfish will find blue cats in almost all the tidal tributaries. This time of year, they will be more concentrated to the deeper holes and channels, but warm weather may encourage some of them to feed in shallower areas. Channel catfish can be found in the tidal rivers and flathead catfish will be found mainly below the Conowingo Dam. A variety of baits often used by catfish anglers includes cut menhaden, gizzard shad, chicken liver, and chicken breast. Using scents to enhance baits is popular to draw the catfish in.
---
Way North Chesapeake Bay Fishing Report, February 3 Update:
Fishing has been slow all around our region as we eagerly await the return of spring and warmer weather. The mid-winter lulls have set in, and consistent bites have been hard to come by. Catfish anglers have been the most successful in the tidal tributaries since blue catfish remain active this time of year. Chicken liver and fresh cut baitfish always work well for them. The blue cats are invasive, and their population continues to grow, so we encourage anglers to target them. They are good eating and removing them from our waterways helps native species. Whether you are fishing from shore or from a boat, it's always good to focus on deeper holes or areas with ledges. We also had a reader check in with some nice carp caught this week at Conowingo.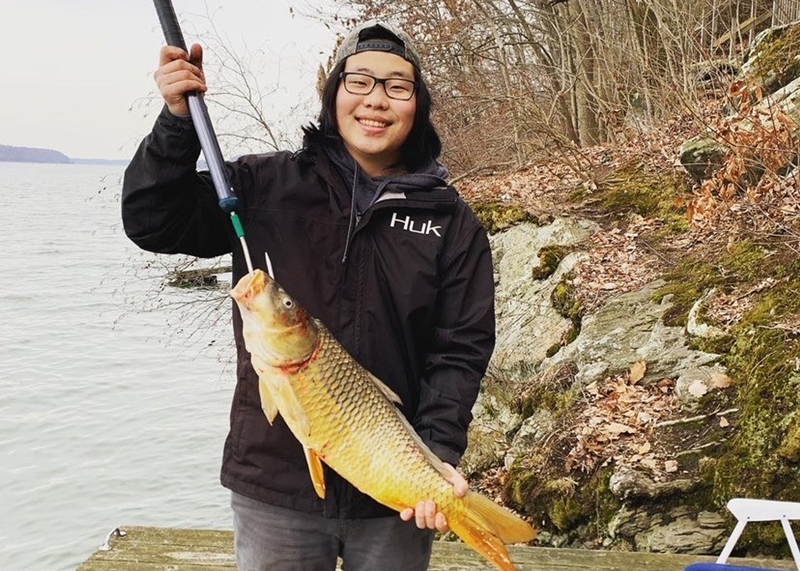 Yellow perch are a few weeks away from beginning their spring spawning run and are still staging in deeper waters. On the Susquehanna, anglers are having some luck with walleye, smallmouth, and yellow perch. The larger schools of yellow perch have been as deep as 30 feet of water. Dropping down live minnows works best for them. Smallies and walleye like to hang along rocky shoreline, especially in the eddies outside of the faster flowing water. Crawfish imitation jigs and jerkbaits work well for both of these fish. At the Conowingo Dam, some walleye can be caught casting from shore near the outflow. Be sure to bring plenty of lures as the rocky bottom is notorious for snagging lures and breaking lines. Flathead catfish can also be caught in the wash below the turbines. It often takes heavy weights to keep baits down in the strong current. The Maryland Department of Natural Resources stocked a few locations with trout on February 2nd which provides a good opportunity for anglers in our Way North region. Forest Hill Pond, Bynum Pond, and Deer Creek were all stocked so make sure to get out there for them. Visit the Maryland trout stocking page to find up to date stockings and locations closest to you.