Way South Chesapeake Bay Fishing Report, December 31 Update:
Welcome to the final fishing report of 2021! Here's hoping that 2022 is a better year, both fishing-wise and otherwise. The chatter of catch-and-release striper fishing for trophy-sized fish has been steadily increasing, with good numbers of 40-plus-inchers showing up (mostly on the east side) from the mouth of the Bay through the CBBT zone and up towards Cape Charles. Some boats have been finding as many as a half-dozen in an outing, via a mix of live eels, trolling, and jigging (listed by order of effectiveness). Oceans East has been reporting surprisingly good numbers of fish in the 30- to 50-pound class.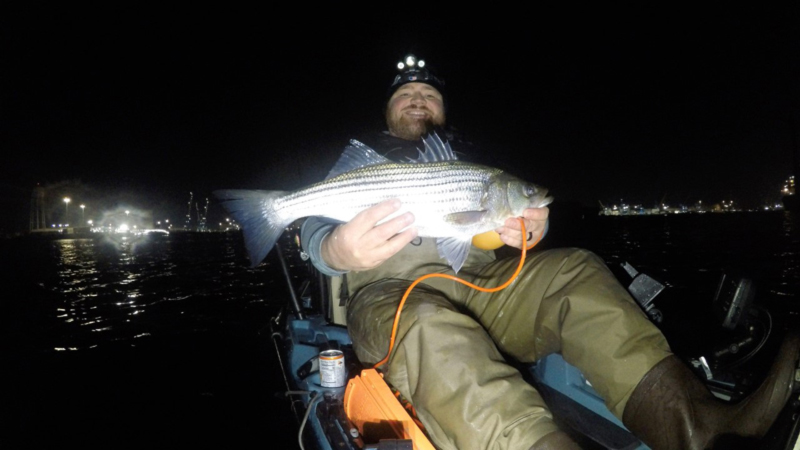 Anglers looking for fish fit for the cooler still have a shot dropping crab baits for tog at the CBBT, where the up-and-down swings in the weather have led to water temperatures hovering right around or just a tick below 50-degrees. A few cold nights could turn this around quickly, but at the moment the opportunity is still there so get out while you can. Another option is hitting the lower Elizabeth for specks and a possible redfish or two; we heard from a reader who enjoyed moderate success this week fishing Gulp! baits down deep near bottom, catching five fish including one that stretched up to 25 inches (exact location not specified). Another checked in after catching slot-sized stripers in the final days of the 2021 season (note that the season for rock in the Chesapeake ends today, 12/31/21). No confirmed reports from the inlets of specks or reds, but the fish certainly should be willing to hit in them as well. We did hear an unconfirmed, second-hand report of a good number of slot reds biting for one angler fishing on the east side at an undisclosed location, unfortunately with no further details.
---
Way South Chesapeake Bay Fishing Report, December 23 Update:
Happy holidays, anglers! Best wishes for an awesome celebration and we hope you and your family are looking forward to a fish-filled 2022. But we have one week of fishing in 2021 left, so: Ocean's East is saying that Virginia waters are alive, with plenty of fish to be caught. They mentioned that the CBBT is a hotspot right now. Some flounder were reported throughout this week,  up to 22 inches. Drifting squid off the bottom or bouncing jigs was a common way to get 'em on the end of the line. Striper catches around the CBBT and just south of it are also on the upswing for trollers and jiggers. Trollers are finding plenty of stripers down deep on  tandems, umbrellas, Mojos, and Stretch 25s. Keeping rigs close to bottom has been necessary to get the hook up. With only a week left in Virginia's striped bass season, lots of boats are expected to be on the water in coming days, so plan accordingly! Jigging has also been a hot option recently, as anglers are able to drift the channel edges. Many fish seem to be hanging around the bottom and at times have been slightly lethargic; bouncing jigs in front of them is a great way to get 'em to bite. The CBBT also has a great tog bite going at times, but as temps keep dropping it's getting more difficult to rack up numbers. When the tog are on they've been happy to snap up crab but other times, they've been really quiet.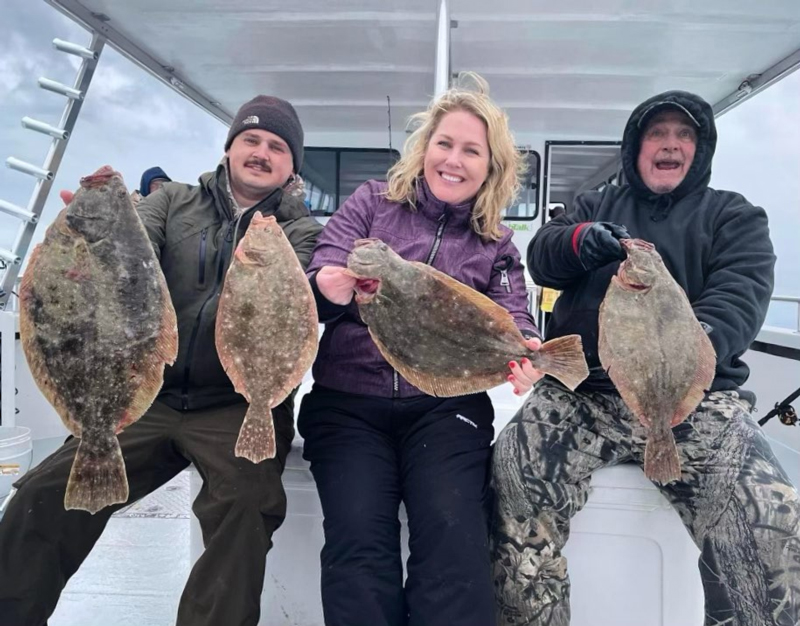 Off Virginia Beach, there's been a hefty amount of black sea bass and flounder being caught. Sea bass haven't been shy at all, and many boats are reporting limit days. Returning to the docks before the dinner bell isn't unheard of right now. The Big Worm noted that they caught and weighed a suspected Virginia record triggerfish (7.1 pounds) this week out at the wrecks, but unfortunately, filleted it before realizing it might have made it into the record books. D'oh!
---
Way South Chesapeake Bay Fishing Report, December 17 Update:
Water temps are dropping at the CBBT and have already dipped below 50-degrees at some points, which means togging is only likely to get tougher from here on out. Still, they're being caught and that should continue for the immediate future and until temps drop a few degrees more. Regardless, most of the air in the room is being sucked up by rockfish. Oceans East is reporting more showing up, with many in the 40-plus-inch range, mostly being caught on eels. While the masses of rockfish haven't arrived from up north as of yet the boats working at it are mostly reporting a payoff of one to four nice fish. And we had a report from Jersey this week that the bulk of the fish had pushed south, so they're surely headed in our direction. A report also came in of rockfish from the HRBT, three slot-sized fish from 22 to 25 inches, hitting electric chicken plastics fished on one-ounce jig heads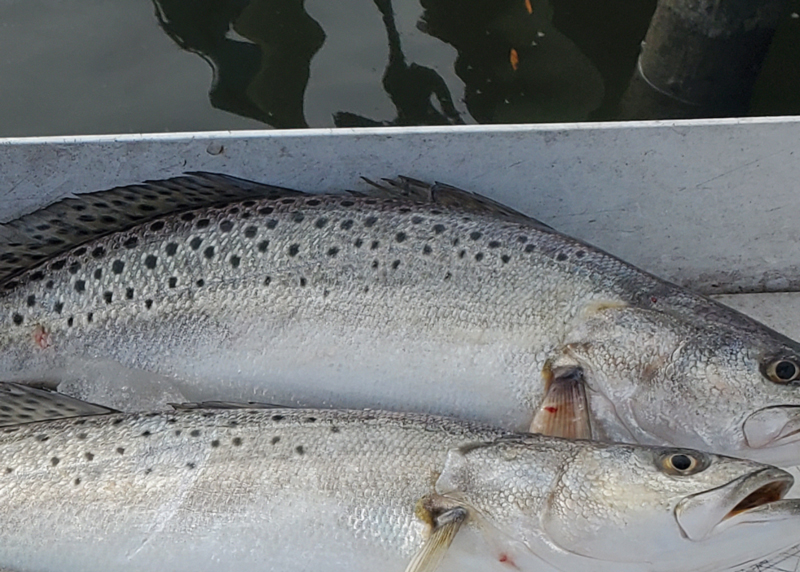 We had just one reader report of a speck this week, and he only had two fish, but one was a big one at 26". The location was undisclosed but the inlets and the lower Elizabeth are generally the places to hunt for them this time of year. We also note that the largest trout of the season are often caught after the main fall run is a done deal, so if you want to go trophy-hunting the timing is right. Soft plastics or diving plugs fished near bottom in 10-plus feet of water generally gets the job done.
---
Way South Chesapeake Bay Fishing Report, December 10 Update:
Southern Bay areas including the lower James, Cape Charles, and the general CBBT zone are seeing an increase in rockfish activity even as it's dropping off in the vast majority of the rest of the Bay. Trollers are using Stretch 25s, umbrellas, and tandems along channel edges, while light tackle casters are hauling live eels for slow-trolling or drifting; we didn't hear from any successful jiggers this week. Several fish well above the slot have showed up in recent days, however, and Ocean East has had reports of multiple fish pushing close to the 50-inch mark. There was also a nice slot rockfish in the upper-20s reported from the James River pier early this week. Speaking of the James, if you're headed upriver anytime soon, check this out: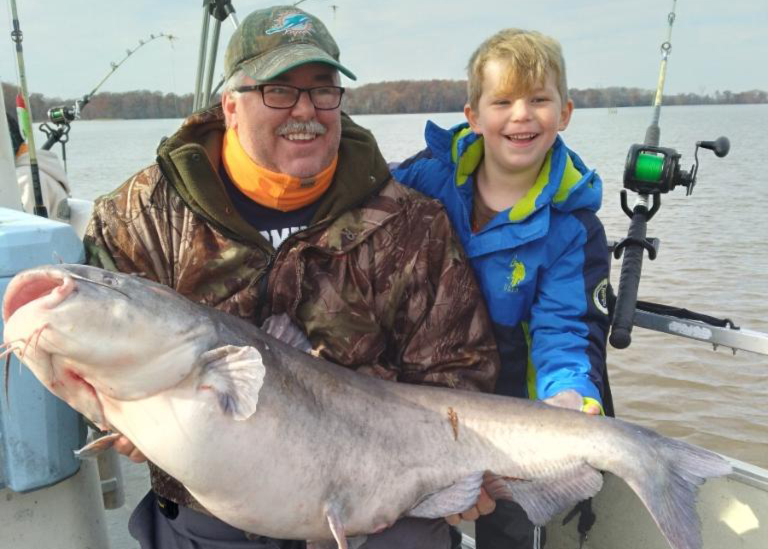 Yeah, we know we don't usually start talking about the upriver bites in this portion of the report until the Bay's gone dormant, but for gosh sakes look at that beast — it surely out-weighed just about all the rockfish caught this week!
---
Way South Chesapeake Bay Fishing Report, December 3 Update:
Ocean's East is reporting that the CBBT has a striper bite going on right now, and expects it to pick up as fish from up north continue heading south. Trollers are enjoying some excellent fishing along the channel edges as they pull umbrellas and tandems, rigged to stay on bottom. Ocean's East had quite a few good striper reports this week, mentioning that the class of fish has been good. Most of the fish being caught are late fall football-shaped fatties. Anglers that aren't trolling have generally been opting to jig, finding large fish on bottom while cruising the channel edges. Jigging larger soft-plastics in white and chartreuse is common right now, and many anglers throwing lures are sizing up to ward off smaller fish.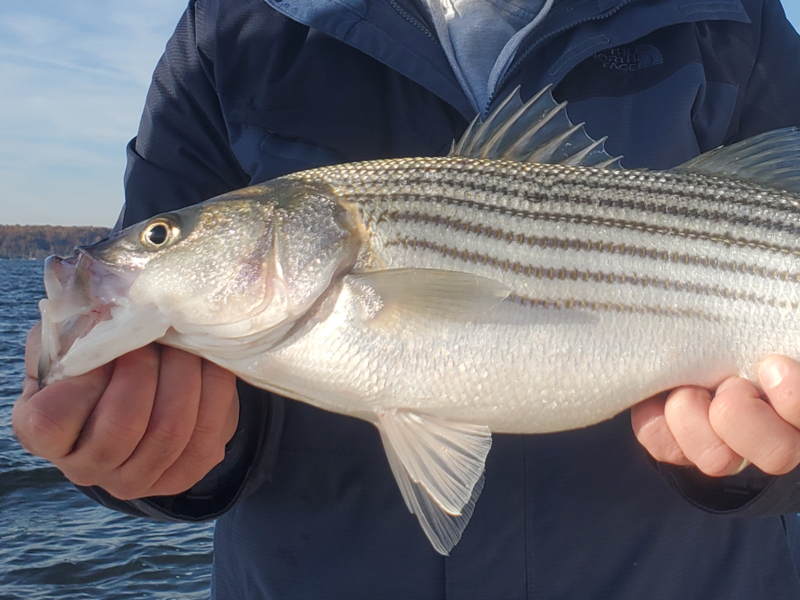 Also around the CBBT, tautog, sea bass, and also a few flounder are all popping up. The tog will take blue crab chunks, and sea bass are going crazy for salted clam. Most of both species are on the small side but keepers can be found by those working at it.
In the inlets and near the HRBT zone the trout are still biting, though the peak of the fall action has passed. White soft plastics are doing the trick, fished slowly just above bottom. One reader who had five on the boat reported that the fish he found weren't impressively long between 15 and 19 inches, but they were very fat, and heavier than normal for their length.